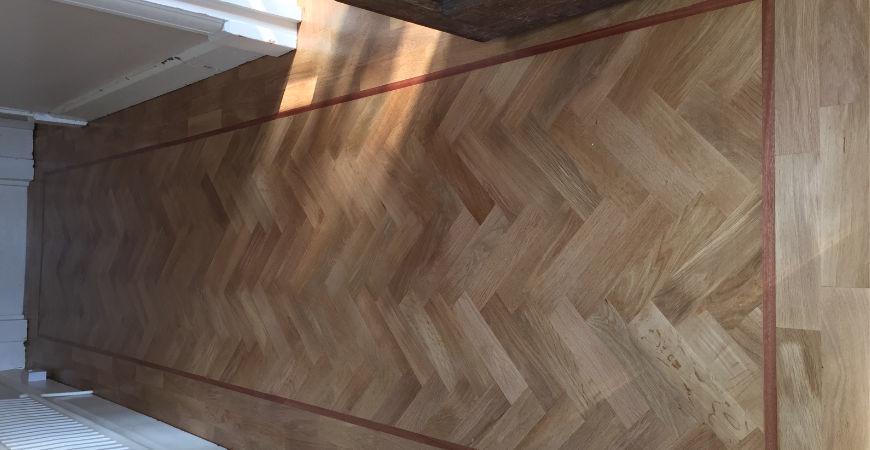 Our team at Wood You Floor provide stunningly designed Parquet flooring!
The word "Parquet" is a derivative of the word "parc" from French meaning "a small enclosed space". One of the first parquet floors was a square patterned design which was introduced to the palace of Versailles in 1684. The parquet flooring was introduced to replace the marble floor which had to be washed constantly and was causing the floor joists below to rot. Parquet floors became very popular after they were noted in important buildings such as Versailles and the Grand Trianon and people began replacing their cold stone floors with warmer wood alternatives.
Parquet flooring is formed by fitting shapes in a regular geometric fashion. Historically squares, triangles and diamonds were used but sometimes even star shapes were added for more decoration. Parquet designs can also be used on furniture such as table tops because they provide a creative way of adding pattern to a wooden surface. The most popular parquet design is the herringbone pattern which uses rectangular blocks laid at perpendicular angles.
Here at Wood You Floor we provide both solid wood and engineered wood flooring. We also have a choice of beautiful stains so you can customise your floor to the colour that would best suit your home. Our flooring is made of beautiful, responsibly sourced European oak. The oak we use is of premium quality and is extremely durable. Parquet floors provide a stylish twist on standard wooden flooring: their eye-catching design makes them perfect for use in halls and foyers, where first impressions count. We provide Parquet flooring in London and Hertfordshire for both domestic and commercial properties and you can select a design and installation service or opt for supply only.